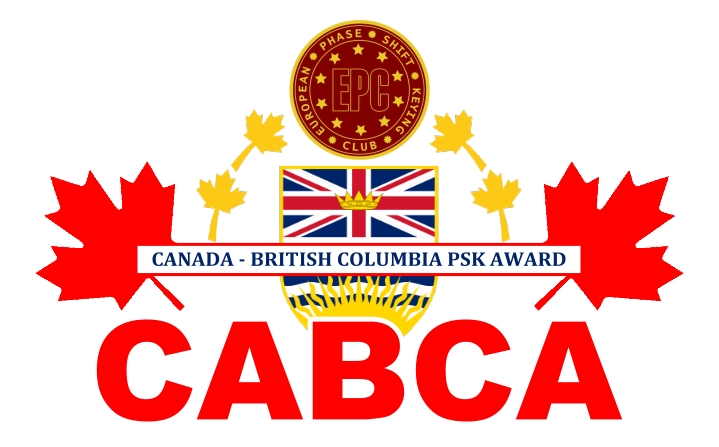 The Canada - British Columbia PSK Award (CABCA) is dedicated to the 10th Anniversary of the European PSK Club. It has been sponsored by Radioarena UK Ltd and devised by the European PSK Club on 25th May, 2016 for two-way PSK contacts with amateur radio stations from different municipalities of British Columbia. As per 25th May, 2016 British Columbia has 162 municipalities as listed below. Contacted stations don't need to be members of the European PSK Club. This award series has no time or date restrictions.

CABCA 25, CABCA 50, CABCA 75, CABCA 100, CABCA 125, and CABCA 150 awards may be claimed by any licensed radio amateur, club station or DMS/SWL eligible under the EPC Awards General Rules who can produce evidence of having contacted 25, 50, 75, 100, 125, and 150 current (different) municipalities of British Columbia respectively at the time of application.

Please make sure that the «CNTY» field in your ADIF log contains correct municipality name - exactly as given in the column «Name» in the table below. Or add the AreaCode in format "#AREA CA.BC.XXX" to your commment field.
| | | | | |
| --- | --- | --- | --- | --- |
| Name | Corporate name | Status | Regional district | AreaCode |
| Abbotsford | Abbotsford, City of | City | Fraser Valley | CA.BC.ABB |
| Armstrong | Armstrong, City of | City | North Okanagan | CA.BC.ARM |
| Burnaby | Burnaby, City of | City | Greater Vancouver | CA.BC.BUR |
| Campbell River | Campbell River, City of | City | Strathcona | CA.BC.CAM |
| Castlegar | Castlegar, City of | City | Central Kootenay | CA.BC.CAS |
| Chilliwack | Chilliwack, City of | City | Fraser Valley | CA.BC.CHI |
| Colwood | Colwood, City of | City | Capital | CA.BC.COS |
| Coquitlam | Coquitlam, City of | City | Greater Vancouver | CA.BC.COQ |
| Courtenay | Courtenay, The Corporation of the City of | City | Comox Valley | CA.BC.COU |
| Cranbrook | Cranbrook, The Corporation of the City of | City | East Kootenay | CA.BC.CRA |
| Dawson Creek | Dawson Creek, The Corporation of the City of | City | Peace River | CA.BC.DAW |
| Duncan | Duncan, The Corporation of the City of | City | Cowichan Valley | CA.BC.DUN |
| Enderby | Enderby, The Corporation of the City of | City | North Okanagan | CA.BC.END |
| Fernie | Fernie, The Corporation of the City of | City | East Kootenay | CA.BC.FER |
| Fort St. John | Fort St. John, City of | City | Peace River | CA.BC.FJO |
| Grand Forks | Grand Forks, The Corporation of the City of | City | Kootenay Boundary | CA.BC.GRF |
| Greenwood | Greenwood, The Corporation of the City of | City | Kootenay Boundary | CA.BC.GRE |
| Kamloops | Kamloops, City of | City | Thompson-Nicola | CA.BC.KAM |
| Kelowna | Kelowna, City of | City | Central Okanagan | CA.BC.KEL |
| Kimberley | Kimberley, City of | City | East Kootenay | CA.BC.KIM |
| Langford | Langford, City of | City | Capital | CA.BC.LAF |
| Langley | Langley, City of | City | Greater Vancouver | CA.BC.LLC |
| Maple Ridge | Maple Ridge, City of | City | Greater Vancouver | CA.BC.MAP |
| Merritt | Merritt, City of | City | Thompson-Nicola | CA.BC.MER |
| Nanaimo | Nanaimo, City of | City | Nanaimo | CA.BC.NAN |
| Nelson | Nelson, The Corporation of the City of | City | Central Kootenay | CA.BC.NEL |
| New Westminster | New Westminster, The Corporation of the City of | City | Greater Vancouver | CA.BC.NWE |
| North Vancouver | North Vancouver, The Corporation of the City of | City | Greater Vancouver | CA.BC.NVC |
| Parksville | Parksville, City of | City | Nanaimo | CA.BC.PAR |
| Penticton | Penticton, The Corporation of the City of | City | Okanagan-Similkameen | CA.BC.PEN |
| Pitt Meadows | Pitt Meadows, City of | City | Greater Vancouver | CA.BC.PIT |
| Port Alberni | Port Alberni, City of | City | Alberni-Clayoquot | CA.BC.PAL |
| Port Coquitlam | Port Coquitlam, The Corporation of the City of | City | Greater Vancouver | CA.BC.PCO |
| Port Moody | Port Moody, City of | City | Greater Vancouver | CA.BC.PMO |
| Powell River | Powell River, The Corporation of the City of | City | Powell River | CA.BC.POW |
| Prince George | Prince George, City of | City | Fraser-Fort George | CA.BC.PRG |
| Prince Rupert | Prince Rupert, City of | City | Skeena-Queen Charlotte | CA.BC.PRR |
| Quesnel | Quesnel, City of | City | Cariboo | CA.BC.QUE |
| Revelstoke | Revelstoke, City of | City | Columbia Shuswap | CA.BC.REV |
| Richmond | Richmond, City of | City | Greater Vancouver | CA.BC.RIC |
| Rossland | Rossland, The Corporation of the City of | City | Kootenay Boundary | CA.BC.ROS |
| Salmon Arm | Salmon Arm, City of | City | Columbia Shuswap | CA.BC.SAR |
| Surrey | Surrey, City of | City | Greater Vancouver | CA.BC.SUR |
| Terrace | Terrace, City of | City | Kitimat-Stikine | CA.BC.TER |
| Trail | Trail, City of | City | Kootenay Boundary | CA.BC.TRA |
| Vancouver | Vancouver, City of | City | Greater Vancouver | CA.BC.VAN |
| Vernon | Vernon, The Corporation of the City of | City | North Okanagan | CA.BC.VER |
| Victoria | Victoria, The Corporation of the City of | City | Capital | CA.BC.VIC |
| West Kelowna | West Kelowna, City of | City | Central Okanagan | CA.BC.WKE |
| White Rock | White Rock, The Corporation of the City of | City | Greater Vancouver | CA.BC.WHR |
| Williams Lake | Williams Lake, City of | City | Cariboo | CA.BC.WIL |
| 100 Mile House | 100 Mile House, District of | District municipality | Cariboo | CA.BC.HMH |
| Barriere | Barriere, District of | District municipality | Thompson-Nicola | CA.BC.BAR |
| Central Saanich | Central Saanich, The Corporation of the District of | District municipality | Capital | CA.BC.CEN |
| Chetwynd | Chetwynd, District of | District municipality | Peace River | CA.BC.CHE |
| Clearwater | Clearwater, District of | District municipality | Thompson-Nicola | CA.BC.CLE |
| Coldstream | Coldstream, The Corporation of the District of | District municipality | North Okanagan | CA.BC.COL |
| Delta | Delta, The Corporation of | District municipality | Greater Vancouver | CA.BC.DEL |
| Elkford | Elkford, District of | District municipality | East Kootenay | CA.BC.ELK |
| Esquimalt | Esquimalt, Corporation of the Township of | District municipality | Capital | CA.BC.ESQ |
| Fort St. James | Fort St. James, District of | District municipality | Bulkley-Nechako | CA.BC.FJA |
| Highlands | Highlands, District of | District municipality | Capital | CA.BC.HIG |
| Hope | Hope, District of | District municipality | Fraser Valley | CA.BC.HOP |
| Houston | Houston, District of | District municipality | Bulkley-Nechako | CA.BC.HOU |
| Hudson's Hope | Hudson's Hope, District of | District municipality | Peace River | CA.BC.HUD |
| Invermere | Invermere, District of | District municipality | East Kootenay | CA.BC.INV |
| Kent | Kent, The Corporation of the District of | District municipality | Fraser Valley | CA.BC.KEN |
| Kitimat | Kitimat, District of | District municipality | Kitimat-Stikine | CA.BC.KIT |
| Lake Country | Lake Country, District of | District municipality | Central Okanagan | CA.BC.LAC |
| Langley | Langley, The Corporation of the Township of | District municipality | Greater Vancouver | CA.BC.LLT |
| Lantzville | Lantzville, District of | District municipality | Nanaimo | CA.BC.LAN |
| Lillooet | Lillooet, District of | District municipality | Squamish-Lillooet | CA.BC.LIL |
| Logan Lake | Logan Lake, District of | District municipality | Thompson-Nicola | CA.BC.LOG |
| Mackenzie | Mackenzie, District of | District municipality | Fraser-Fort George | CA.BC.MAC |
| Metchosin | Metchosin, District of | District municipality | Capital | CA.BC.MET |
| Mission | Mission, District of | District municipality | Fraser Valley | CA.BC.MIS |
| New Hazelton | New Hazelton, District of | District municipality | Kitimat-Stikine | CA.BC.NHA |
| North Cowichan | North Cowichan, The Corporation of the District of | District municipality | Cowichan Valley | CA.BC.NCO |
| North Saanich | North Saanich, District of | District municipality | Capital | CA.BC.NSA |
| North Vancouver | North Vancouver, The Corporation of the District of | District municipality | Greater Vancouver | CA.BC.NVD |
| Northern Rockies | Northern Rockies Regional Municipality | District municipality | Northern Rockies | CA.BC.NOR |
| Oak Bay | Oak Bay, The Corporation of the District of | District municipality | Capital | CA.BC.OAK |
| Peachland | Peachland, The Corporation of the District of | District municipality | Central Okanagan | CA.BC.PEA |
| Port Edward | Port Edward, District of | District municipality | Skeena-Queen Charlotte | CA.BC.PED |
| Port Hardy | Port Hardy, District of | District municipality | Mount Waddington | CA.BC.PHA |
| Saanich | Saanich, The Corporation of the District of | District municipality | Capital | CA.BC.SAA |
| Sechelt | Sechelt, District of | District municipality | Sunshine Coast | CA.BC.SEC |
| Sicamous | Sicamous, District of | District municipality | Columbia Shuswap | CA.BC.SIC |
| Sooke | Sooke, District of | District municipality | Capital | CA.BC.SOO |
| Spallumcheen | Spallumcheen, The Corporation of the Township of | District municipality | North Okanagan | CA.BC.SPA |
| Sparwood | Sparwood, District of | District municipality | East Kootenay | CA.BC.SPW |
| Squamish | Squamish, District of | District municipality | Squamish-Lillooet | CA.BC.SQU |
| Stewart | Stewart, District of | District municipality | Kitimat-Stikine | CA.BC.STE |
| Summerland | Summerland, The Corporation of the District of | District municipality | Okanagan-Similkameen | CA.BC.SUM |
| Taylor | Taylor, District of | District municipality | Peace River | CA.BC.TAY |
| Tofino | Tofino, District of | District municipality | Alberni-Clayoquot | CA.BC.TOF |
| Tumbler Ridge | Tumbler Ridge, District of | District municipality | Peace River | CA.BC.TUM |
| Ucluelet | Ucluelet, District of | District municipality | Alberni-Clayoquot | CA.BC.UCL |
| Vanderhoof | Vanderhoof, District of | District municipality | Bulkley-Nechako | CA.BC.VAH |
| Wells | Wells, District of | District municipality | Cariboo | CA.BC.WEL |
| West Vancouver | West Vancouver, The Corporation of the District of | District municipality | Greater Vancouver | CA.BC.WVA |
| Sechelt Indian Government District | Sechelt Indian Government, District | Indian government district | Powell River and Sunshine Coast | CA.BC.SIG |
| Bowen Island | Bowen Island, Municipality | Island municipality | Greater Vancouver | CA.BC.BOW |
| Jumbo Glacier | Jumbo Glacier Mountain Resort Municipality | Mountain resort municipality | East Kootenay | CA.BC.JUM |
| Sun Peaks | Sun Peaks Mountain Resort Municipality | Mountain resort municipality | Thompson-Nicola | CA.BC.SUN |
| Whistler | Whistler, Resort Municipality of | Resort municipality | Squamish-Lillooet | CA.BC.WHI |
| Comox | Comox, Town of | Town | Comox Valley | CA.BC.COM |
| Creston | Creston, Town of | Town | Central Kootenay | CA.BC.CRE |
| Gibsons | Gibsons, Town of | Town | Sunshine Coast | CA.BC.GIB |
| Golden | Golden, Town of | Town | Columbia Shuswap | CA.BC.GOR |
| Ladysmith | Ladysmith, Town of | Town | Cowichan Valley | CA.BC.LAD |
| Lake Cowichan | Lake Cowichan, Town of | Town | Cowichan Valley | CA.BC.LAK |
| Oliver | Oliver, Town of | Town | Okanagan-Similkameen | CA.BC.OLI |
| Osoyoos | Osoyoos, Town of | Town | Okanagan-Similkameen | CA.BC.OSO |
| Port McNeill | Port McNeill, Town of | Town | Mount Waddington | CA.BC.PMN |
| Princeton | Princeton, Town of | Town | Okanagan-Similkameen | CA.BC.PRI |
| Qualicum Beach | Qualicum Beach, Town of | Town | Nanaimo | CA.BC.QUA |
| Sidney | Sidney, Town of | Town | Capital | CA.BC.SID |
| Smithers | Smithers, Town of | Town | Bulkley-Nechako | CA.BC.SMI |
| View Royal | View Royal, Town of | Town | Capital | CA.BC.VIE |
| Alert Bay | Alert Bay, The Corporation of the Village of | Village | Mount Waddington | CA.BC.ALE |
| Anmore | Anmore, Village of | Village | Greater Vancouver | CA.BC.ANM |
| Ashcroft | Ashcroft, The Corporation of the Village of | Village | Thompson-Nicola | CA.BC.ASH |
| Belcarra | Belcarra, Village of | Village | Greater Vancouver | CA.BC.BEL |
| Burns Lake | Burns Lake, The Corporation of the Village of | Village | Bulkley-Nechako | CA.BC.BUL |
| Cache Creek | Cache Creek, Village of | Village | Thompson-Nicola | CA.BC.CAC |
| Canal Flats | Canal Flats, Village of | Village | East Kootenay | CA.BC.CAN |
| Chase | Chase, Village of | Village | Thompson-Nicola | CA.BC.CHA |
| Clinton | Clinton, Village of | Village | Thompson-Nicola | CA.BC.CLI |
| Cumberland | Cumberland, The Corporation of the Village of | Village | Comox Valley | CA.BC.CUM |
| Fraser Lake | Fraser Lake, Village of | Village | Bulkley-Nechako | CA.BC.FRA |
| Fruitvale | Fruitvale, The Corporation of the Village of | Village | Kootenay Boundary | CA.BC.FRU |
| Gold River | Gold River, Village of | Village | Strathcona | CA.BC.GOL |
| Granisle | Granisle, Village of | Village | Bulkley-Nechako | CA.BC.GRA |
| Harrison Hot Springs | Harrison Hot Springs, Village of | Village | Fraser Valley | CA.BC.HAR |
| Hazelton | Hazelton, The Corporation of the Village of | Village | Kitimat-Stikine | CA.BC.HAZ |
| Kaslo | Kaslo, Village of | Village | Central Kootenay | CA.BC.KAS |
| Keremeos | Keremeos, The Corporation of the Village of | Village | Okanagan-Similkameen | CA.BC.KER |
| Lions Bay | Lions Bay, Village of | Village | Greater Vancouver | CA.BC.LIO |
| Lumby | Lumby, The Corporation of the Village of | Village | North Okanagan | CA.BC.LUM |
| Lytton | Lytton, The Corporation of the Village of | Village | Thompson-Nicola | CA.BC.LYT |
| Masset | Masset, Village of | Village | Skeena-Queen Charlotte | CA.BC.MAS |
| McBride | McBride, The Corporation of the Village of | Village | Fraser-Fort George | CA.BC.MCB |
| Midway | Midway, Village of | Village | Kootenay Boundary | CA.BC.MID |
| Montrose | Montrose, The Corporation of the Village of | Village | Kootenay Boundary | CA.BC.MON |
| Nakusp | Nakusp, Village of | Village | Central Kootenay | CA.BC.NAK |
| New Denver | New Denver, The Corporation of the Village of | Village | Central Kootenay | CA.BC.NDE |
| Pemberton | Pemberton, Village of | Village | Squamish-Lillooet | CA.BC.PEM |
| Port Alice | Port Alice, Village of | Village | Mount Waddington | CA.BC.POA |
| Port Clements | Port Clements, Village of | Village | Skeena-Queen Charlotte | CA.BC.PCL |
| Pouce Coupe | Pouce Coupe, The Corporation of the Village of | Village | Peace River | CA.BC.POU |
| Queen Charlotte | Queen Charlotte, Village of | Village | Skeena-Queen Charlotte | CA.BC.QUC |
| Radium Hot Springs | Radium Hot Springs, Village of | Village | East Kootenay | CA.BC.RAD |
| Salmo | Salmo, The Corporation of the Village of | Village | Central Kootenay | CA.BC.SAL |
| Sayward | Sayward, Village of | Village | Strathcona | CA.BC.SAY |
| Silverton | Silverton, The Corporation of the Village of | Village | Central Kootenay | CA.BC.SIL |
| Slocan | Slocan, Village of | Village | Central Kootenay | CA.BC.SLO |
| Tahsis | Tahsis, Village of | Village | Strathcona | CA.BC.TAH |
| Telkwa | Telkwa, The Corporation of the Village of | Village | Bulkley-Nechako | CA.BC.TEL |
| Valemount | Valemount, Village of | Village | Fraser-Fort George | CA.BC.VAL |
| Warfield | Warfield, The Corporation of the Village of | Village | Kootenay Boundary | CA.BC.WAR |
| Zeballos | Zeballos, The Corporation of the Village of | Village | Strathcona | CA.BC.ZEB |