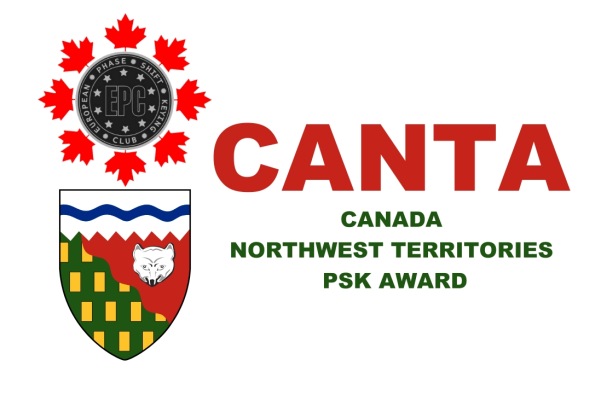 The Canada - Northwest Territories PSK Award (CANTA) is dedicated to the 10th Anniversary of the European PSK Club. It has been sponsored by Radioarena UK Ltd and devised by the European PSK Club on 27th May, 2016 for two-way PSK contacts with amateur radio stations from different municipalities of Northwest Territories. Yellowknife is the capital of the Northwest Territories and its only city, while Fort Simpson is its only village. Of the remaining 22 municipalities, three of them are charter communities, four are community governments of the Tlicho people, eleven are hamlets and four are towns as per 27th May, 2016. Contacted stations don't need to be members of the European PSK Club. This award series has no time or date restrictions.

CANTA 5, CANTA 10, CANTA 15, and CANTA 20 awards may be claimed by any licensed radio amateur, club station or DMS/SWL eligible under the EPC Awards General Rules who can produce evidence of having contacted 5, 10, 15, and 20 current (different) municipalities of Northwest Territories respectively at the time of application.

Please make sure that the «CNTY» field in your ADIF log contains correct municipality name - exactly as given in the column «Name» in the table below. Or add the AreaCode in format "#AREA CA.NT.XXX" to your commment field.